Katie Ronzio
Public Relations Intern
"I happened to be Mrs. Jackson Pollock and that's a mouthful. I was a woman, Jewish, a widow, a damn good painter, thank you, and a little too independent."            
 -Lee Krasner
You may have heard of Jackson Pollock, but what about Lee Krasner? Probably not.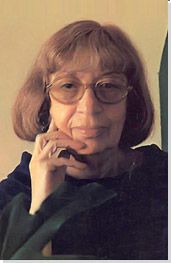 Lee Krasner's giant abstract expressionist painting Right Bird Left hangs in the Ball Brothers Foundation part of the museum. It catches your eye because of the scale and color, but it receives even more attention
because she's Jackson Pollock's wife. Pollock is the crowned painter of abstract expressionism, a post-World War II artistic movement full of movement, uncertainty, and masculinity. Krasner, however, was so much more than a famous artist's spouse, and her artistic identity deserves to be credited.
Krasner's Right Bird Left (1965) is massive in size and scope. Characterized by spontaneous and subconscious artistic movements, intentional strokes disguised as unintentional strokes define abstract expressionism. Krasner's painting includes bright colors with large, gestural strokes that look like they could be large flowers.
A religious Jewish woman, Krasner painted right to left, which is the direction of Hebrew script, as a way to connect to her subconscious. Because of this, Right Bird Left appears heavier on the right side.
To this day, Krasner inspires women and artists to break and challenge gender roles; she proved the world wrong when society told her women couldn't paint. Not only could she paint just as well as any man, she maintained her artistic identity throughout the Abstract Expressionist movement, which is seen in her floral motifs compared to other popular Abstract Expressionist art that favored post-war masculinity.
For a further look into the art at the David Owsley Museum of Art, follow @domaatbsu.
Source:
Shaffer, J. (2016). TheArtStory.org. Lee Krasner. http://www.theartstory.org/artist-krasner-lee.html