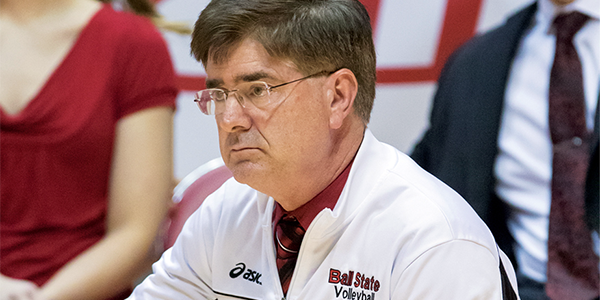 Lifelong Passion
Steve Shondell grew up with volleyball and the Ball State Athletics family from the moment he was born. Throughout his life, he has dedicated his time and talents to cultivating amazing volleyball programs and crafting a family at Ball State and in the Muncie community. This is partly why he has made the generous decision to give back to a community that has given him so much. His father, Don Shondell, founder of the Ball State men's volleyball program, is the other reason Steve has decided to give back in the form of a planned gift.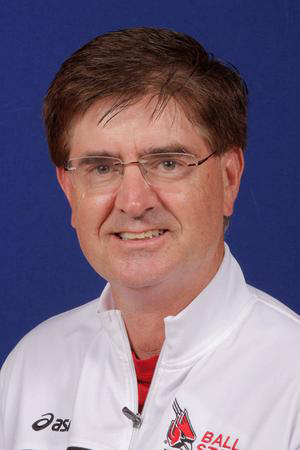 Don brought up Steve to follow in his footsteps and at five years of age, Steve quickly became a member of his father's team. Steve remembers traveling all over with the team, attending practices and tournaments, sweeping the floor before practice, and passing out candy bars, oranges, and salt tablets to tired players. From there, his love of volleyball grew. Steve pursued this lifelong passion throughout his childhood and high school years and eventually came to Ball State to play under the leadership of his father. There, he helped the team accomplish many things including three conference championships and an NCAA Final Four appearance in 1974. Off the court, Steve studied hard with the hopes of becoming a physical education teacher and coach. He was also adamant that Ball State had the best physical education program in the country, due in part to his professors being Ball State Athletics coaches.
After graduation from Ball State, he accepted a position to teach and coach at Muncie Burris, the Laboratory School of Ball State. During his 35-year tenure at Burris, he became the winningest coach in all of Indiana in any sport with a career record of 1220-102. He saw his team to victory with four national championships and 21 Indiana state championship titles, which is a record that will likely never be broken. While teaching and coaching at Burris, he also became his father's men's volleyball assistant coach from 1991-1998. Steve has been inducted into the American Volleyball Coaches Association Hall of Fame, the American High School Athletic Hall of Fame, and the Ball State University Hall of Fame.
After his 35 years of passionate service, Steve was presented with the opportunity to return to his alma mater and be the head coach of the Ball State women's volleyball team, which previous to his arrival had experienced a losing record. Steve quickly turned that around and helped develop a phenomenal program throughout his six seasons. The current head coach of the women's volleyball team, Kelli Phillips, served as an assistant coach during Steve's tenure and learned a lot under his guidance. She stated that, "He showed me the importance of building relationships with every player and staff member, and I saw firsthand how much his players and former players loved and respected him."
Since retiring, Steve continues to remain the biggest fan of both the men's and women's volleyball teams. He continues to stay involved by announcing the men's team matches and expressed that there was nothing he enjoyed more than commentating Ball State volleyball games.
Steve has made a planned gift to Ball State because of his love and devotion to the school that has given him so much throughout his life. According to him "Ball State Athletics has had the biggest impact on my life, more than anything else, and I am so thankful for that." His love for his players and the sport of volleyball itself is why he wants to help the program continue to grow and thrive for the foreseeable future. Steve's planned gift has also been made in memory of his father and he hopes that Don Shondell and his impact will be remembered for years to come.
For more information about the Ball State University Foundation, click here. To give now, click here.