By: Micaela Knox, Public Relations & Marketing Intern
How many pieces of furniture do you own that was bought from a big-box retailer? That furniture might be pleasing to the eye, but how many other people own the same exact pieces? How much thought really went into designing them anyway?
"The machine has largely replaced the hand and the business-man has supplanted the craftsman," said Josef Hoffman (1870-1956) in reference to mass-produced goods. "To attempt to stem this torrent would seem like madness."
Hoffman's furniture designs seek to promote yet criticize mass-produced art. As a fan of the Arts and Crafts movement, he would find the beauty in a carefully produced piece of furniture, but as a Viennese Secessionist, he treaded the fine line between tradition and modern style. He wanted to enhance the role of the modern artist in the design, not the business of large-scale production.
This "Suite of Furniture: Pair of Armchairs, Table, and Settee", designed somewhere between 1904 and 1908, is a perfect example of Hoffman's modern style, which did away with the ornamentation of traditional art and instead focused on the beauty of simplicity. The way he utilizes lines in a geometric form allows eyes to move across and down each piece as one work of art, not only as three seats and a table.
The suite in the DOMA collection is only one model design by Hoffman. This set of furniture has been in the collection for over 30 years and has felt its years. In 2001, the museum, then named the Ball State Museum of Art, experienced a construction-related fire. The smoke from this fire affected many other works in other parts of the museum, including the Hoffman suite, which was professionally cleaned later in the year. Nevertheless, time has worked its evils on the suite in other ways. The paint on the surface of the table crumbles and cracks.  The color has seen more vibrant days.
"Maybe this piece was his first attempt at this prototype," wondered docent Ellen Buchanan, who had researched for and led a tour on furniture design on Sept. 28. "Just a baseline without ornamentation for later designs, that would explain the bland color and minimal design."
She continued to hypothesize, "It's interesting because mass produced furniture did not become more popular to the masses until the 1940s because of the industrialization from the war. Maybe it was purposefully designed to be simple and affordable to buy."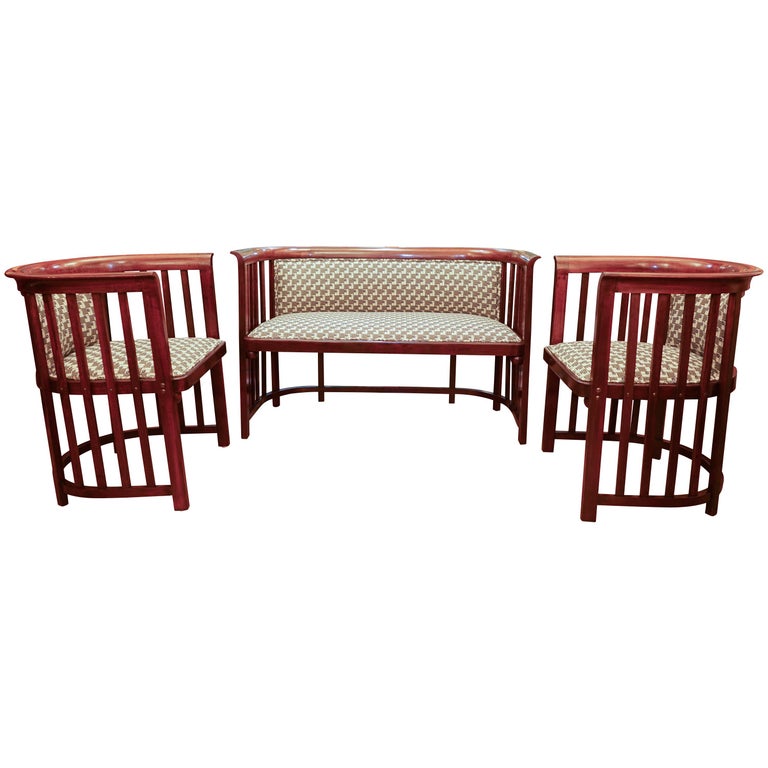 Similar, but more elegant, Hoffman designs are still being sold by collectors today. A handful of chair sets with the same half oval shape are listed for sale online. This beech seating group, also designed during Hoffman's days at the Wiener Werkstaette (est. 1903), is described as part of the Jugendstil movement, also known as the German Art Nouveau, by the 1stdibs specialists.
Initially, I had to beg to differ from those specialists. Art Nouveau is most popularly known for its organic forms. I thought Hoffman's style emphasizing geometric shape broke from this key characteristic of Art Nouveau, but I had learned that his style instead revolutionized it. According to Rebecca Seiferle on theartstory.org, "the organic shapes contrasted with more abstract and geometric forms to create a more complex dynamism."
The suite in our exhibits is more than a seemingly mass-produced set of furniture. It is an ode to hand-crafted art and mass-produced products, as it teeters right on the edge of the two.
See the Hoffman suite on display in the Ball Brothers Foundation Gallery.
What do you think of the "Pair of Armchairs, Table, and Settee"? Would you have one of Hoffman's designs in your home, or stick to building your own big-box furniture? Comment below!
Follow us on Facebook for more #DocentDives and information on upcoming Docent Choice Tours!