Hello everyone and welcome to our Good News outlet. We've been busy this summer, take a moment to reflect and celebrate the many accomplishments of our CCIM community since our last update in April.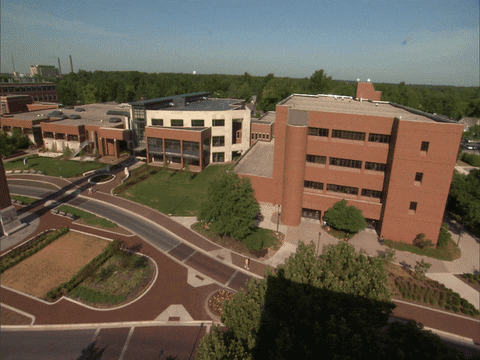 Alumni
Many recent graduates started new jobs over the summer:

Simon Williger, Business Development Representative at Oracle in Nashville, TN
Ally General, Graphic Designer at Predictive Data Lab remotely
Eli Lucas, Advanced Development Program at Roche Diagnostics in Indianapolis, IN
Olivia Weinzapfel, pursuing the Emerging Media Design and Development Program at Ball State University

Eric Pascarelli '11, and his all-Ball State crew, won Best Actor at the Hoosier Film Festival in Bloomington (Ball State Media was a sponsor).
Students
Ball State Sports Link proved once again they are the Best of the Best while being Honored at the 14th-Annual SVG College Sports Media Awards in association with NACDA. Our students captured two Best of College Sports Media Awards bringing Sports Link's total to 13 wins since 2012, plus our five nominations bring our total to 54 nominations (an SVG record).

'The Concept Crew' comprising of two CCIM undergraduate students, Lexi Esterle (Journalism) and Drew Wiltberger (Media), and advised by Assistant Professor of Journalism, Dr. Sungwon Chung, earned the 2

nd

place award in the

13th Annual Washington Media Scholars Foundation's Media Plan Case Competition

. This is a national, multi-round competition where student teams of 2 develop a media plan to address a case scenario based on real-world data.

Department of Media student, Hope Stauffer, earned the 2022 Philanthropy Award for promoting philanthropy education across campus and leading philanthropy initiatives beneficial to Ball State University.

 
Faculty and Staff
Dr. Maria Williams-Hawkins was awarded the Words Of Wisdom Black Graduate Student Association Award.

Dr. Ashley Donnelly,

Director of Digital Storytelling and Professor of Media,

along with two colleagues from across campus,

Dr. Emily Johnson (Department of History), and Professor Silas Hansen (Department of English)

were awarded a Virginia Ball Center for Creative Inquiry Fellowship. The project will work on researching and ultimately creating a documentary about the LGBTQ+ community in Muncie and efforts by community members to provide what Ashley and her group are calling "queer/inclusive spaces" for tweens, teenagers, underage young adults, and those seeking sober spaces."  

 

SJSC faculty Leo Caldwell presented "Trans 201: Telling stories beyond the gender binary" to a large group of USA TODAY and Gannett journalists on May 10, 2022. He also presented "Creating inclusive spaces for LGBTQ+ individuals" at the University of Oregon to the Knight's Campus Graduate students and faculty on June 28, 2022.
SJSC faculty Kevin Moloney presented (virtually) Transmedia Placemaking: Geocache Storytelling for Locative Immersion at the Information, Medium and Society Conference, Rhodes, Greece, on June 21, 2022.
CCIM Units
Please join us in welcoming two new members to our CCIM Team: Associate Dean, Dr. Weiwu Zhang and Budget Director, Mr. Walter Soptelean.

We are so proud to share that 8Twelve Coalition,

the university's first Immersive Learning

Collaborative,

was recognized as the 2022 Outstanding Community Partner. 

Since Spring of 2020, CCIM and the 8twelve rolled up their sleeves for cleanups, book drives, and community meals. This novel partnership is a model for ongoing community-focused scholarship built on lasting bonds and a co-educational mindset. 

 
Volunteer
We are looking for faculty and staff to volunteer at SuperParty. This is a great way to get connected and build relationships with students from day 1. Email Amy Clevenger, if you'd like to give back!
Preview Day is on September 24, October 15, and November 5 and we are looking for students and faculty to represent their departments. Email Brea Cunningham if you'd like to represent your unit.
Muncie Habitat has open volunteer opportunities at their ReStore. Restore proceeds help to fund Muncie Habitat's work throughout the community, while also offering affordable home supplies for low-income families and keeping things out of landfills, allowing students the opportunity to have a direct impact on our community without lifting a hammer.

Students can volunteer at ReStore on a walk-in basis Tuesdays-Saturdays 9a.m.-4p.m.

Contact Kate Elliott for more details about volunteering with Muncie Community Schools or the 8Twelve Coalition.
Currently, West View Elementary is looking for student, faculty, and staff volunteers to help in various ways:
If you are interested in volunteering with Muncie Community Schools, you must be vaccinated, masked, and approved by Safe Hiring Solutions.
Muncie Missions the faith-based agency that has brought hope and healing to the homeless and needy of Delaware County for over 80 years is currently seeking volunteers in various areas like:

Serving community lunch
Sorting clothing donations
Construction – painting, installing fencing, etc.
Janitorial work
Detailing vehicles
Landscaping/Mulching

For more information contact Muncie Missions at (765) 288-9122 or on their website.
Upcoming Events
What to Watch
Ball State Sports Link premiered its first

30-minute documentary, titled "Thy Will Be Done – The Trey Uetrecht Story".

This documentary

is the type of story to inspire and move all kinds of people, sharing how a patch of black ice changed the trajectory of Uetrecht's football career. The documentary was produced during the spring 2022 term by senior, Faith Denig and junior, Peyton

Monnell

along with Uetrecht, marking this the first time a student-athlete at Ball State served as a producer with Ball State Sports Link in the Department of Media. While the Sports Link film made its online premiere on May 25

th

, the documentary received linear television coverage on Ball State PBS on July 9.
Did you know?
Our very own Chris Taylor of Sports Link is a certified Bob Ross Instructor and recently opened his own gallery. To learn more about Chris and his friendship with Bob Ross, visit his website and check out the Bob Ross Experience at Minnetrista.