Hello everyone and welcome back to our "Good News" outlet. Unpack your bags and stay awhile, we've missed you on campus!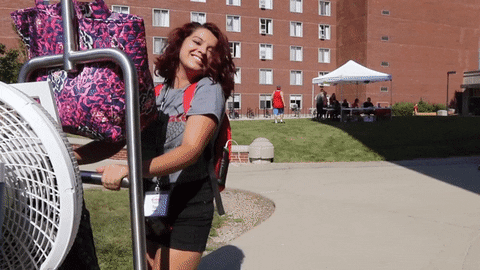 Alumni
Students
Logan Wood spent the summer working as a videographer at Yosemite National Park.
SportsLink students start off the new school year with an innovative promotional shoot with Ball State Football.
CCIM Units
Our Faculty welcomed Westview Elementary students back to school on their first day.
Journalism 

Brian Hayes, senior lecturer of Journalism, taught an Early Start workshop on "Find Your Fit: Meaningful Media Careers". The workshop heard from several alumni and guest speakers from a variety of media careers, including:
Faculty & Staff
We would like to congratulate our amazing faculty on their recent achievements:

Give High-fives to kids at the Boys and Girls Club (August 16-September 3)

Join us to celebrate the start of after-school programs at the Boys and Girls Club of Muncie, located at 1710 S. Madison St. The kids love to see the outpouring of support from our community as they start the new school year. 

Here's what's involved:

Arrive at the Madison St. site at 2:45 p.m.
Kids arrive between 3-3:30 p.m.
Give high-fives!

That's it. Please use this form to RSVP or RSVP to Amy Gibson at agibson@bgcmuncie.org. 

A New Journalism Club is being developed with a local school that would meet after school every week or every other week to introduce students to research/planning, writing, design, video/audio, and photography. If you are interested in working on this effort, please contact Kate Elliott in the Department of Journalism.
South Central Fall Clean-Up (September 18 and 25)
Get your hands dirty while having fun during this annual event that makes a huge impact on the South Central neighborhood. The association provides a light breakfast and lunch is served afterward. Gloves, safety vests, and trash pickers are also provided. You can choose the level of strenuousness of your activity, from picking up street litter or riding on the back of the trash truck to tackling trash in an abandoned lot. They would love for students, faculty, and staff to volunteer and/or capture the experience through reporting, video, and photos. Clean-up runs from 7:45-11:45 a.m. at the South Central Community Garden (roughly 224 E. 7th St.).
Scarecrow Building Party at Muncie Public Library (September 24)
The library will provide the space and supplies for families and individuals to build scarecrows for the Scarecrow Festival. The library would like 2-4 volunteers to help during this creative, hay-filled event. Volunteer hours are from 3-6 p.m. at Maring-Hunt.
Scarecrow Festival at Muncie Public Library (October 2)
The Muncie Public Library will hold its Third Annual Scarecrow Festival from 1-5 p.m. Saturday, Oct. 2, at the Maring-Hunt Library Gateway to Gardening Pavilions. The library is looking for 5-8 volunteers to help at various booths and with games for kids. They would also like a photographer to capture the event, and possibly a reporter to cover the event. So, please consider this as an opportunity for a class assignment or club activity.
If you are interested in volunteering at any of the events above, make sure to email Kate Elliott at least one week before the event for which you plan to participate.
CCIM in the News
What to Watch
Cardinal Compass is a show produced, edited, and hosted by CCIM students. Each month, the 30-minute program featuring President Mearns and his guests explore the connections between Muncie and Ball State. Now in its third season, watch episode 4, the 'best of' edition, revisiting highlights from this past academic year.
---
Want to share your story? Feel free to submit it using our story submission form.