"We are clearly in a time of great change. The world has demanded we think deeply about safeguarding our community's health, black lives, LGBTQ rights and the role of journalism in a democratic society. As an education environment, it is our responsibility to nurture students' ability to be agile in both their thinking and their actions so that they can change and be agents of change." — Paaige Turner, CCIM Dean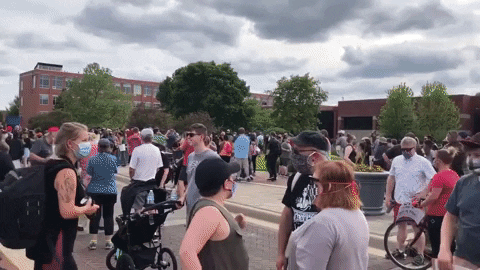 CCIM Community
On June 4, many CCIM students, faculty, staff and alumni joined thousands of Ball State and Muncie community members for a peaceful march from Shafer Tower to the City Hall organized to protest the death of George Floyd and racial injustice against African Americans.
Faculty and Staff
Telecommunications instructor Chris Flook won a Regional Emmy Award in the Graphic Arts – News, Animation, Art Design category for this Christmas Gift Opening opening credit sequence created for Indiana Public Radio.
As of July 1, Dan

Waechter

 will serve as Assistant Dean for Curriculum and Associate Chair of Journalism.  In his half time role as Assistant Dean he will provide administrative oversight and coordination for curriculum innovation, development and alignment within the College of Communication, Information, and Media, Ball State University, and external partners.  Dan will work collaboratively with unit heads, graduate directors, CCIM Associate Dean and CCIM Schedule Specialist as well as relevant university committees.
As of July 1, Jerry Pierce will be transferring into a new position within IT as a Senior IT Support Technologist for Unified Technology Support. Jerry will still maintain his office and provide ongoing, dedicated support to CCIM. This transition ensures that CCIM continues to receive the excellent support Jerry has provided while expanding the resources Jerry can mobilize on our behalf.
On June 10, Paaige Turner presented at the 2020 NAFSA eConnection in the session titled "The International Education Leadership Voice: Actor, Advocate, and Academic."
Students
CCIM students received 7 NATAS Student Production Awards:

College Long Form – Non-Fiction | Why it Matters: A Tale of Two Cities | Garrett Looker, Michael Robb, Madeline Grosh, Eric Pritchett, Justin Brown
College Sports | Ball State Sports Link: Football Leadership | Luke Astle, Shaemus Kreider, Jordan Nemeth
College Sports Program | Ball State Sports Link: NCAA Women's Basketball Tourney Watch | Faith Denig, Tristan Russell, Jack Kizer, Jarin Matheny, Adrian Jarding
College Magazine Program | Ball State Sports Link: Every Athlete Matters | Alex Kartman, Chris Taylor, Brad Dailey, Jarin Matheny
College Editor | Ball State Sports Link | Seena Greiwe
College Photographer | Ball State Sports Link | Faith Denig, Seena Greiwe
College Talent | Ball State Sports Link | Jack Kizer
Alumni
Communication Studies alumna Faith Kellermeyer (MA, 2015) and Communication Studies Associate Professor Kathy Denker had a book chapter out in June in Programming 101: Programming Change. The publication is based on the work that Faith did in her thesis project examining campus sexual assault prevention.  Faith now works as the social media coordinator for Drexel University college of computing and informatics.
Communication Studies alumni Kayla Raush (MA, 2018) and Savaughn Williams (MA, 2019), and COMM professor Kathy Denker have a chapter featured in the The Routledge International Handbook of Organizational Autoethnography. Kayla is about to be a third year PhD student at Ohio University, and Savaughn is about to start her second year as a PhD student at the University of Kansas. This is both of their second publications with Kathy both during and after their time at BSU.
'18 TCOM alumnus Ryan Shank won a Regional Emmy Award in the "Editor – Program (Non News) category for "Living Form – a Daily News documentary". Ryan Shank directed and edited the documentary while he was a Ball State Senior.
Numerous CCIM alumni's work was also recognized at the 51st National Academy of Television Arts & Sciences (NATAS) Lower Great Lakes Emmy Awards on June 20, conducted virtually due to the coronavirus pandemic. View a complete list of winners here.
CCIM Units & Organizations
CCIM in the News
---
Want to share your story? Feel free to submit it using our story submission form.