The first Monday of this month was May 4 so we could not resist opening the blog post with a Star Wars gif. Congratulations to our faculty, staff, students and alumni for the numerous accomplishments and milestones highlighted below.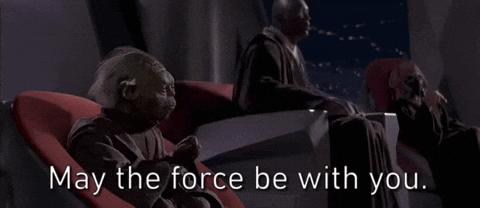 Faculty and Staff
Telecommunications instructor Chris Flook was nominated for a Regional Emmy Award in the Graphic Arts – News, Animation, Art Design category for this Christmas Gift Opening animation.
CICS' Dennis Trinkle participated as a panelist in "Pioneers in Remote Learning" — a webinar to help support corporate and university leaders as they transition to online learning and training models due to COVID-19. A recording of the webinar hosted by E.I Games is available here.
Johnny Sparks was re-appointed as Chair of the Department of Journalism.
CICS' Becky Hammons was promoted to full Professor with tenure.
Alex Kartman was promoted to Associate Lecturer in Department of Telecommunications.
15 of our faculty and staff members celebrated milestone work anniversaries with us: Sonny Wingler, Paige Waters, Mary Moore (10 years), Arlene Shirk, Brian Hayes, Carrie Shue, Terry Heifetz, Chris Flook (15 years), Tom Gayda, Kirsten Smith (20 years), Peggy Fisher, Mike Spillman (25 years), Tim Underhill, Jackie Buckrop (30 years), Ray Steele (35 years).
Students
CCIM students received 10 nominations for regional Emmy and NATAS student production awards. Discover the nominees, their work, and the faculty mentors involved on each project here.
CCIM students swept 19 Best in Journalism Awards. The full list of winners can be found here.
Congratulations to our 324 Spring graduates and to all of you who helped them get there!
Alumni
Journalism alumna Casey Smith made her New York Times debut with a byline on the front page of the print edition—above the fold! Read the digital version of her article here.
Journalism and Telecommunications alumna and Texas Public Radio's Digital News Producer Brianna Kirkham was recognized with a regional Edward R. Murrow Award  for excellence in social media. TPR's social media efforts for news are led by Brianna. The full results can be found here.
TCOM alumnus Ryan Shank was nominated for a Regional Emmy award in the Director-Non-Live (Post-Produced) category. Watch the "Living Form" documentary he directed for the Virginia B. Ball Center For Creative Inquiry. See here.
CCIM Units & Organizations
_______________
Want to share your story? Feel free to submit it using our story submission form.